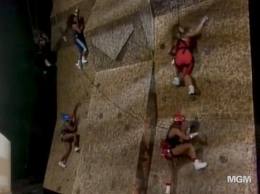 A 32-foot (9.8 m) rock-climbing wall (extended to 40 feet (12 m) in the 2008 revival, and 50 feet (15 m) when the revival was moved to the Los Angeles Sports Arena) stood in front of the contenders in this event. The object was to make it to the top without being pulled off by a trailing Gladiator or before time expired. For the first half season of play, contenders were given two minutes to scale the wall. From season two onward, the time limit was one minute.
Except during Seasons 5-7, contenders have a head start on the Gladiators:
Season 1b-2: 15 seconds for men, 10 seconds for women
Season 3-4: 10 seconds (15 seconds for a brief period in season 4)
2008 Revival: 7 seconds
From season five until season seven, no head start was given, but the wall was widened and divided into five partitions, with each Gladiator having to cross over to their contender's partition to pull them off. The contender, in an attempt to escape the Gladiator, can also cross over to the center partition to be able to reach the top of The Wall, making it tougher for the Gladiators, who would then have to cross two partitions.
10 points were given for the first contender to ascend The Wall, with 5 given for the second place contender if both made it. During the first two seasons (and certain special episodes of season four as to determine seeding because of elimination rules), the higher climber was given 5 points if both were pulled off.
For the 2008 revival, 5 points are awarded for reaching the top in second place or if a contender can survive the entire 60 seconds without being pulled off. Additionally, contenders pulled off the wall splash down into the pool instead of simply dangling from their safety harnesses. The wall was 40 feet (12 m) high in Season 1. Season 2 saw the wall heightened to 50 feet (15 m).
Community content is available under
CC-BY-SA
unless otherwise noted.