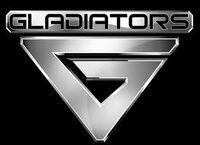 Gladiators was a British television series which aired on Sky1 from 11 May 2008 to 25 October 2009. It was filmed in Shepperton Studios and was produced by Shine Limited. It was a revival of the earlier series of the same name and based on the American version of the show. The US, UK and Australian versions of the show were all revived in 2008. The winners of the show each earned £50,000. Commentary on the events was provided by Alan Parry.
For the first series, the show was hosted by Ian Wright and Kirsty Gallacher. For the second series Ian Wright was joined by Caroline Flack. John Anderson, the referee in the original series, returned for the first series but was replaced by John Coyle for series two.
In May 2009, it was announced that the show had been cancelled.
Each series featured 32 contenders (16 male, 16 female). Men and women competed in separate tournaments, with two men and two women competing in each episode. Contenders too part in for against the Gladiators, trying to earn as many points as possible before the final event, the Eliminator. In that event, each point separating the contenders translated into a half-second advantage. The four events leading up to the final were selected from a total of eleven events.
The grand prize in Series 1 was £50,000.
Changes from the original series
Edit
The show featured a lineup of new Gladiators, with new costumes. However, Amazon, Panther, Siren and Warrior share names with gladiators from the original UK series and several others share names with those from international series.
Due to Sky1's greater advertising requirements, and contestant interviews prior to each of the events starting, the number of events before the Eliminator was cut from five to four.
The revival also featured new music.
All the music to the new series was specially composed by British composer Paul Farrer also known for his music for The Weakest Link and Dancing on Ice. Other artists' music has been used in certain events.
Series One
Edit
According to reporst, at least one contestant has had to withdraw from the opening episode, while one of the Gladiators slipped on a bridge and had to leave the set. Another Gladiator had a stomach bug and Enigma suffered from an injured ankle. In addition, Enigma was involved in an incident on Gauntlet where a contender kicked a ram rod into her face, resulting in a confrontation and the contender being disqualified. Contestants also suffered injuries including a broken toe, a damaged knee, a neck injury, as well as one contestant suffering a broken arm in the quarter finals. One finalist was so badly injured that he refused to start after his whistle and the other contender won the show by default. In the second episode of "Gladiators: The Legends Strike Back" female legend Scorpio suffered an ankle fracture while participating in The Wall.
Sky1 responded to say that health and safety is their number one issue, and they want to minimise the injuries, but pointed out that; "This is Gladiators - a tough physical show for athletes. It's not Family Fortunes!"
Series Two
Edit
In the fourth episode a female contestant since the revival had to pull out due to sustaining a knee injury just before the Eliminator. David Staff broke his nose during the semi-finals while on Earthquake with Doom. However he went on to score points. He later went onto win the eliminator and eventually went on to win the series as Male champion. He also competed on the champion of champions special, aired on 5 April 2009, and won.
Gladiators G-Zone
Edit
Originally advertised as Gladiators: G-Force, this short ten-minute program profiled a selection of the gladiators, including Spartan, Panther and Atlas. With a 2min profile of Oblivion, not prviously shown, appearing as part of a repeat run.
Cancellation
Edit
In May 2009, Sky1's director of programmes Stuart Murphy announced that Gladiators was to be axed. Speaking to Broadcastnow, Murphy said, "Gladiators has done a great job for Sky 1 over two seasons, resonating with our young audience and showcasing our entertainment credentials. But now we need to prioritize and allow for both new entertainment formats and genres not recently seen on Sky 1 such as comedy."
The Gladiators Zone web site ran a campaign to try to save the show. The campaign included fans sending Sky1 and Stuart Murphy cotton buds in protest of the show being axed.
Transmissions
Edit
Original series
Edit
| Series | Start date | End date | Episodes |
| --- | --- | --- | --- |
| 1 | 11 May 2008 | 24 August 2008 | 15 |
| 2 | 4 January 2009 | 29 March 2009 | 12 |
| Date | Entitle |
| --- | --- |
| 6 July 2008 | Celebrity Special |
| 31 August 2008 | The Legends Return |
| 16 November 2008 | Battle Of The Forces |
| 21 December 2008 | The Legends Strike Back |
| 15 February 2009 | Battle Of The Forces |
| 5 April 2009 | Champion Of Champions |
| 12 April 2009 | Battle Of The Athletes |
| 25 October 2009 | The Legends Last Stand |